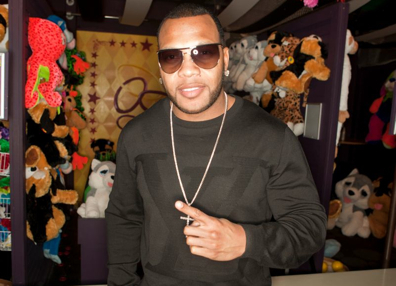 Boardwalk-inspired games, funhouse mirrors, sparkling dartboards and an endless supply of the sparkling liqueur, Nuvo, set the celebratory vibe at the private press reception for rapper Flo Rida's new album, Only One Flo (Part 1). The festive event, held in New York City's Carnival, complemented the rapper's up-tempo catalog of club hits such as "Low," "Right Round," and his latest chart topper, "Club Can't Handle Me". Rolling out decided to dig beneath the fun surface and tap into Flo Rida's serious thoughts as he talked about being weary of relationships, mainstream hip-hop's glamorization of the thug life and how travelling has given him humility. –souleo
Mainstream hip-hop often comes under fire for its degrading lyrics about women. Yet, you grew up with seven sisters, so has that given you a different perspective on women?
For the most part it [makes] me [have] respect for women. At the same time I am hesitant about having a girlfriend 'cause it's like answering to eight different women, including my mom. But I do know a lot about women.
Mainstream hip-hop also glamorizes the thug life in certain cases. You have that street appeal but you're not known to gloat about the street lifestyle.
I [have] always been a leader and [I] made [the] decision not to do certain things that deal with negativity. Growing up in the projects I remember this one church had different celebrities come out and speak. They let the kids know to dream big and never give up since they grew up in unfortunate situations and made it out. I'm probably the only successful [person] out of my projects but I'm letting the kids know I'm not any different from them. The only difference is when it came to making decisions I made the right ones by being a leader and not doing nothing negative.
Read the full interview at RollingOut.com!